Bio
Jim Kimsey had the good sense to be born in Chattanooga, Tennessee, a fortuitous move for someone who would grow up to be a guitar player. As a child, Jim was surrounded by the roots music sounds of the Southeast. They came out of the TV, the radio, the phonograph and the open air stage at Lake Winnepasauka: the western swing of the Willis Brothers, the bluegrass of Flatt & Scruggs, the roll of Fats Domino and the rock of Elvis and Jerry Lee. There was the Grand Ol' Opry too, of course and -- most impressive to young whippersnappers of the late fifties-- the singing cowboys who rode, shot and
yodeled their way through the Saturday matinees. The photo at left shows young Jim and his brother John in full toy-rodeo regalia, not exactly playing, but at least playing at the guitar and accordion, respectively.
Soon it was 1963, economic gears were turning, and the family moved north to Indianapolis. There, Jim's parents made a point, at least within the Kimsey household, of preserving downhome culture in the midst of cold, flat Yankeeland. This meant that the sounds of Patsy Cline, Johnny Cash, Ray Charles and Johnny Rivers continued to boom from the living room stereo (Jim's parents being charter members of the blue suede shoes generation). Now, though, the sounds of the southland were augmented by those of the Beach Boys, the Dave Clark Five and the Kingston Trio. When Jim began taking piano lessons at the age of eight, classical music entered the picture. However, Jim often snuck away from piano practice to plunk furtively on a $35 Stella flattop six-string which the brothers had received as a gift. Figuring out the signature lick to "Secret Agent Man" proved a milestone and Jim was hooked.
Shortly after this, Jim's older brother John started plunking furtively as well and soon the brothers were caught up in the musical current of the sixties: strumming, singing, forming little garage bands and figuring out this new music (the music of Dylan, the Beatles, the Who and Cream – really, all the usual suspects) by hook or crook.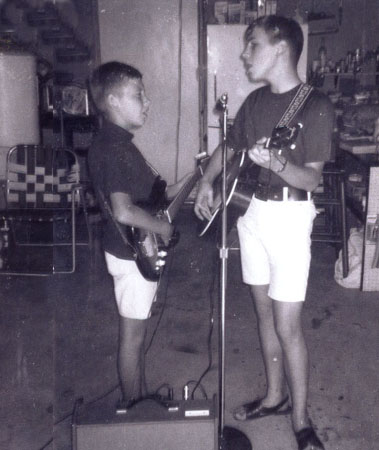 In those days there was no School of Rock, no Guitar Center and no online tutorials promising to make you a fret-ripping shredding machine in 90 minutes. If you were going to play this music -- and play it well -- you had to figure it out on your own, or as a member of the small secret society (every town had one) of semi-maniacal teenagers who were chasing the same mystery: What is that chord / lick / groove [fill in the blank]? And this was largely a business of studying the recordings obsessively -- huddling in one's room, head between the speakers, instrument in hand, playing passages over and over and slowing the record down to 16 rpm for the fast parts. Hard work, yes, but invaluable training for a musician and a kind of training not then emphasized in K-10 music study -- the training of that precious asset, the ear.
In tenth grade, Jim took Geometry from Carl W. Hines and this again was fortuitous, as Mr. Hines was not just a math teacher but one of Indianapolis's finest jazz pianists. In a magnanimous gesture, Carl introduced the brothers to the jazz sounds of Charles Mingus, John Coltrane and Miles Davis.
In early high school, Jim turned heads with his lead playing, in particular his ability to channel Duane Allman, Mick Taylor and Ry Cooder at a time when most guitarists thought a bottleneck was a traffic jam. But when the Mahavishnu Orchestra (led by former Miles guitarist John McLaughlin) landed like a jazz-rock UFO, a door opened and Jim stepped through it.
Beginning in high school and moving into college at Indiana University, Jim flourished as a fusion musician who could whip from soulful bluegrass to screaming free jazz without missing a beat. During this time he played with the McLaughlin-influenced Padrovishnu Orchestra, free jazz maestros Going Out of Music Forever, rockabilly stalwarts Mystery Train and Bloomington favorite son Bob Jones. With harmonica wizard Larry Wexer, he formed a virtuosic duo whose set lists ranged from the Delmore Bothers to Duke Ellington. While studying Telecommunications and audio engineering at IU, Jim also began to compose in adventurous new modes such as ambient and electronica.
After college, Jim and brother John teamed up to form the Little Feat-influenced combo Kid Gloves. Kid Gloves featured original pop/rock songs by both brothers and, though based in Indiana, once appeared at the Opryland Hotel, an occasion that brought the two brothers full circle. In the eighties, Jim gave Indianapolis a taste of New York loft culture with the "punk jazz" combo Today's Young Talent. TYT performed numerous Kimsey originals but always found room for a little James Brown or Jimi Hendrix. Also around this time, Jim opened his home recording studio, the Avant Garage, where projects included original scores for the Indianapolis Shakespeare Festival. In addition, Jim started making regular excursions to New Orleans, where he immersed himself in that city's legendary music and culture. Soon, he was Indianapolis's prime musical exponent of "gator logic" and second line sensibility.
In recent years, Jim has performed at the Indy Jazz Fest as leader of Wild Blue Jimbos and has showcased his talents as a jazz performer, arranger and composer on the soaring and lyrical post-bop CD, perXactly!. In addition, he has explored the stunning sonic possibilities of the fretless guitar, Fripp-style looping and the electric ukulele. In fact, he stopped the show at 2006's International Fretless Guitar Summit, held at the Knitting factory in New York. As a one-man band, he has opened for such artists as the Verve and Adrian Belew. He also teaches private students at a range of levels and performs rock'n'soul with KatBlack. Always eclectic, surprising and just plain musical, Jim Kimsey deserves a good, long listen.